PayPal IPN integration with MailOrderWorks
If the majority of your orders are paid for via PayPal, the IPN link could save you a lot of time by automatically creating a new order and adding products to it based on the information contained within the payment.
For more powerful integration via the API, please see the mail order integration page.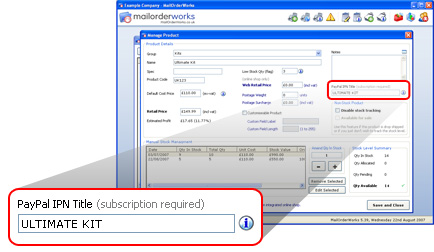 So that MOW can identify products from your payments, you need to complete the PayPal IPN Title box on your products. This box is used as a unique identifier, allowing your product titles (from, for example - eBay or your website) to be exactly as you wish, providing that your IPN Title inside MOW can exists within the item title for that product, and never another product (causing a clash).
Our IPN system allows you to easily integrate your website with MailOrderWorks order processing, making it much easier to run your business and minimise manual data entry.
Example IPN Titles and Product Codes
If your eBay listing is called "THE BEST ULTIMATE KIT - BRAND NEW IN BOX - FAST UK SHIPPING!!!" then your IPN title could be "ULTIMATE KIT".
If however you have two 'ultimate kits' - a blue one and a green one, you'll need to be a bit more specific and ensure the IPN Title has something unique to match it to the blue item title. You can also use a product code approach, adding #1005# to your titles and setting the IPN Title as #1005#.
For website products paid for via a PayPal shopping basket, either the product title or the product code can be used to identify the correct product within MOW.
Automatic stock control
Because your orders will be added to MOW automatically, when you dispatch them your stock levels will be updated automatically so you'll always know what lines are available and which are not. By setting the low level warning, MOW will highlight products that are running low on stock - giving you time to re-order them with your suppliers.
Setting up IPN Link for mail order dispatch
The IPN link for MailOrderWorks is subject to an additional fee, to enable it on your account please contact our sales team.