MailOrderWorks (MOW) Software Features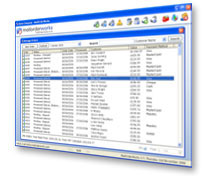 MOW has a range of features designed to meet the needs of most businesses selling over the phone, via web sites or using auction sites such as eBay. Rather than doing thousands of things that you don't need, MOW gives you the core functions, keeping the software simple and fast to use.
Most people can use MOW without extencive training.
We've also created screen shots of MOW in action, so you can see how easy it is to use.
Each feature is simple to use, yet very effective in what it does. It has made running our business a joy, I would never go back to the times when we didn't have it. Mail Order Works keeps us, and our customers very happy!

Kris (GreenmanBushcraft.co.uk)
General Features
Efficient, easy and intuitive mail order software.
Multi-user system, several staff can all use it at the same time.
Run more than one business? MOW can connect to any number of company accounts, even several at the same time.
Remotely hosted database located on secure, high speed, high availability servers (UK based) allowing your staff to login from any location, even if they are working from different buildings and using different computers.
Connect via a secure tunnel for extra security and peace of mind.
Powered by advanced MySQL 5 database technology - fast searching, large volume data handling and safe storage of your business information.
Password protected user accounts with their own permission profile.
Support for both VAT Registered and non-VAT Registered companies.
Support for non VAT (zero rated) products.
Easy stock control features, lets you add stock to products, allocate it to new orders then pick it automatically when an order is dispatched.
Sell products with or without stock level tracking (mix and match both modes too).
Print customised, branded sale invoices and dispatch notes.
Install on any Windows operating system from XP Service Pack 2 onward (see system requirements).
Sell in any currency, simply change the currency symbol setting.
Easy navigation - quick access to all main screens from the top menu bar.
Order Management
Stay on top of your mail order sales, see who ordered what, when and through who. You'll be able to find orders in seconds, impressing your customers and saving you time by having their details a click away ready to answer queries.
Create and store new orders in seconds.
Add as many products to an order as required, each with its own quantity.
Quickly add products by the product code, searching or using the drop down.
Apply discounts to products as you add them, or to the whole order.
Warnings for products with no stock.
Set a delivery address and a billing address if required.
Log how the order was paid for.
Support for deposits - orders can be placed, with a deposit value entered, and saved with a status of awaiting full payment.
Shipping type and price can be set, pre-set shipping bands can also be used.
Notes can be added, along with other detail fields.
Automatically calculates order values including Goods Total, Discount, Shipping Cost, VAT (if applicable), Profit (if user has permission) and the Grand Total.
Flag orders as Hold to stop them from being dispatched.
Flag orders with a Star to find them again later if you need to.
Print customised, branded sales invoices and dispatch notes.
See when and who created and processed the order.
When creating an order, use an existing customer's details by using the Import Customer facility, saving time by avoiding re-entering the same information.
Create another order for a customer with one click from an existing order.
Record the source of the order for reporting later.
Add custom fields to the order screen to record extra details.
Customer Database
The customer database makes it easy to process repeat customer orders.
Quickly retrieve a customers details to avoid typing them in again.
Create data exports for mailshots.
See orders placed by a particular customer.
Give customers account numbers to quote when they re-order.
Record customer notes and other details.
Postcode Lookup
Save time and reduce mistakes by obtaining the customers address using their postcode.
Get full addresses from UK postal codes.
Fully integrated with MailOrderWorks - not a separate application.
See a list of buildings (including house numbers, building and company names).
Double click on the relevant building to use the address.
Postcode lookup credits can be purchased by calling our sales team.
Dispatching Orders
Using mail order software helps you to process orders quickly, printing out dispatch notes and adjusting stock levels - a real time saver when running a mail order business.
See all orders awaiting dispatch.
Filter orders by particular products or the order status.
Batch process all orders with a couple of clicks, printing all of the order sheets with just the one print job.
Warning before attempting to dispatch orders that have not been paid for.
Warnings before processing orders that haven't been paid in full, when no payment method has been logged, and when no shipping method has been set. You can also choose to automatically ignore these warnings if required.
Set the dispatch date - you're not forced to use today's date.
Choose the print template - use one of your custom document templates.
Process orders individually from the order screen if required.
Find and re-process orders dispatched on a previous date.
By clicking on an order in the dispatch list, you can see what products the order contains and their stock status.
Orders with products that are out of stock will show up as Insufficient Stock.
Products, Groups and Stock Control
Save time when creating orders and keep on top of your stock. Never oversell a product and face the embarrassment of canceling or delaying an order.
Create as many products as you require.
Group related products using Product Groups. You can create and nest as many groups and sub-groups as you need.
Store the product SKU (code), title, specification (variant), retail price, default cost price and notes.
Set a Low Stock Qty so that products with a stock below that value are flagged as low (so that popular products flag up as low in time for re-ordering).
Choose which stock control mode suits the product best - Stock Tracking or Disable Stock Tracking which allows you to have products that you drop ship, or don't need to monitor stock levels for.
If using stock tracking on a particular product, you can add stock to the product by entering the amount of stock, delivery date, unit cost, order reference and notes.
See a detailed stock break down, you can see exactly when and how much stock was added to the product and how much is still available to sell. Old stock is always sold first.
Search for products by their product code or title.
Filter products by their type and stock status.
Show products from a particular product group.
See a stock summary - showing total stock cost and retail cost.
Stock Delivery Management
The Delivery Management feature is used as a handy grouping tool to link product stock from the same order together. You can also store various values for accounting later.
Store multiple product stock purchases within one delivery, making it easier to see what you ordered, who from and when.
Set the Order Date, Order Ref, Supplier, Products Ordered (SKU, Product, Unit Cost and Quantity).
Record "pending stock" - stock that has been ordered but not received yet.
Set the Delivery Due date, and/or mark the delivery as delivered when its arrived.
Store notes about the delivery.
Find previous deliveries from a supplier.
Filter deliveries by their status - Delivered or Pending.
Issue/Returns Tracking
Keep on top of customer complaints and see how long its taken to deal with each problem. An invaluable feature for any busy business selling in volume.
Raise a return/issue from the order screen.
Mark them as Processing while you're dealing with them, and Resolved once the problem has been resolved.
Add notes to the issue.
See who created and who posted the order, and see who raised the issue.
Note the reason/issue by typing or using a pre-set common reason.
Note the resolution by typing or using a pre-set common resolution.
See at a glance how many days an issue has been open.
Reporting Tools
Create sales reports based on a single month, year or create a report for any date range by specifying your own timeframe (start and end date).
Customise the sales reports to include orders that are Dispatched, Awaiting Dispatch, Pending Payment and Deposit Paid.
Create stock reports to see what you have in stock. These a great when putting together new purchase orders or visiting a wholesaler.
Customise stock reports by filtering products based on their stock status, product group and even sort them by the title or stock level.
Custom Reports
Need a special report? These allow you to use reports created just for you by our team.
Table reports - ideal for viewing data with the fields you need, such as a particular sales report with fields of your choice.
CSV report files- ideal for exporting sale and stock data for other software.
Custom reports based on existing templates typically cost between £30 and £60.
System Settings
Putting you in control to tweak the functionality of the software to your needs.
Create and manage staff accounts.
Edit the print documents text (invoice/dispatch note etc)
Add and edit pre-set shipping tariffs.
Change your VAT status.
Select your currency symbol.
Change customer contact settings.
(require a customer record be linked to an order for example)
Change the names of (and enable/disable) various custom fields.
Staff Accounts
Control what staff can and can't do, including:
Create new orders, view orders, edit orders, process orders, delete orders.
Print reports.
View profit values and cost prices.
View products, add products, edit products.
Add stock, edit stock and edit product categories.

Pictures tell a thousand words, so take a look at the MOW screen shots to see just how easy and clear the system is. If you need a custom feature, please contact us.

In short we cannot fault MOW and cannot praise the system highly enough.
We did a lot of research into which system to use and found MOW to be the best value for money by far. [read the full review]
Julia (CurvaceousBeauties.com)
MailOrderWorks is FREE to try - click here to create a free trial account.