How using MOW mail order software has helped real businesses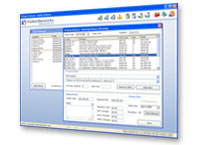 A wide range of companies use MOW every day.
Millions of pounds worth of sales are processed by MOW software every year, helping companies keep up with their deliveries and ensure stock isn't over sold.
Here are just a few of the testimonials we've received from users of the software.
We have been using MailOrderWorks now for just under one year and it has transformed our business beyond recognition!

Telephone orders used to be a problem as we kept notes on bits of paper and invariably valuable information was mislaid and there was no continuity between our members of staff and our customers. Now our number one rule is that orders go straight into MOW and all of the information is to hand and safe.

We are lucky enough to be the first customer who has had MOW integrated with our OSCommerce shopping cart and now we come into the office in the morning, simply print off the orders and away they go.

MOW also keeps our stock under control, our accounts at the end of the year, quarter or when the VAT's due are made really simple and we have a ready made database of customers, suppliers and products.

In short we cannot fault MOW and cannot praise the system highly enough. We did a lot of research into which system to use and found MOW to be the best value for money by far. With the staff at MOW the package is perfect. Dealing with the staff is always a pleasure and they are always courteous, informative, patient and available.

If you invest in one thing this year – make it MOW – you will be so glad you did!

Julia (CurvaceousBeauties.com)
We have been using Mail Order Works for almost two years now. Looking back I just don't know how we ever managed without it. Before, we would have no clue as to what stock levels we had. Invoices took time to draw up, and of course working out profit margins took even longer. Not to mention drawing up sales reports for the accountant!

Mail Order Works is a simple to use solution for anyone who has a website, or simply sells any form of product. And, what with the recent launch of the new version it just couldn't get any better. We have everything we need to process a professional invoice and guarantee we are only selling stock that we actually have 'in stock'. It's also an invaluable friend when it comes to stock takes.

Each feature is simple to use, yet very effective in what it does. It has made running our business a joy, I would never go back to the times when we didn't have it. Mail Order Works keeps us, and our customers very happy!

Kris (GreenmanBushcraft.co.uk)
We've been using mail order works for over 2 years now, its worked very well for us and definitely helped us to grow. We find the system is very fast and has been very reliable. Its essential that we can access it from the warehouse and our laptops when out of the office, so we're very pleased to be using the system because of it can handel several users from anywhere. The other software we looked at couldn't do this.

Dave (online retailer and eBay seller)
The desktop application is a stroke of genius, it has loads of features we don't yet use, but they are not in the way of what we do use – so basically we are not wasting time entering information we will never use just because the system requires it. Unlike the last system we are not having to 'hack' in information...

The stock control system is very good, especially in regards to knowing how much you pay for items in a batch and calculating profit. This would be a great selling point. We also like how easy it is to process orders. Now we can print the order and peel off the address label, it's so easy.

Danny (Valet Shop)
MailOrderWorks is FREE to try - click here to create a free trial account.